The 2022 Range Rover Is a Greatly Improved Transporter of Gods
Whether you're a master of the universe or just think of yourself that way, you'll find a lot to like here.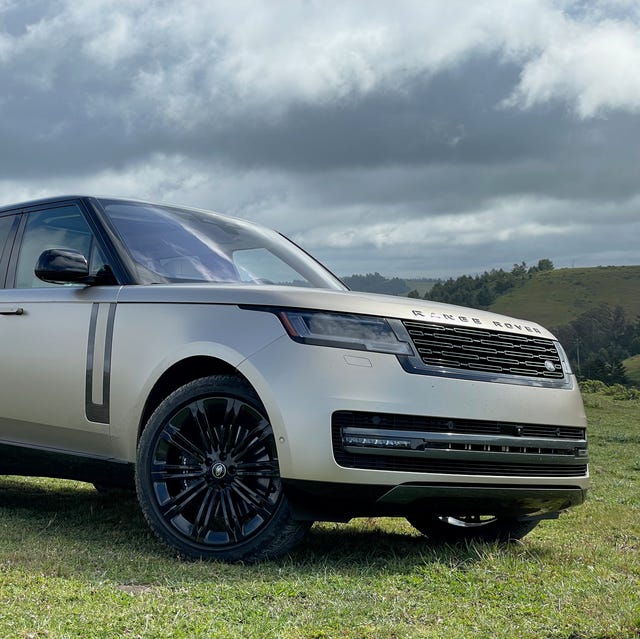 It's a rare day when a new Range Rover debuts.
Of course, when I say that, I'm referring to what Land Rover snobs would probably refer to as the real Range Rover — that is, not one boasting a suffix like Sport or Evoque or Velar, but the one that can trace its lineage all the way back to the days of the Apollo missions, when it arguably pioneered the then-silly-sounding idea of a luxury sport utility vehicle. No, a new version of the "true" Range Rover has only come around five times in human history; the first debuted in 1969, the second followed a whopping 25 years later, the third arrived in 2001, the fourth in 2012.
And now we're here a decade after that, once again faced with an all-new Land Rover Range Rover. But this Range Rover faces a very different future than any of its predecessors. The era of gasoline powertrains is coming rapidly to a close in favor of electric vehicles, so the Range Rover is finding ways to go green; the world's wealthy are growing wealthier, so the Range Rover can push upmarket; and, perhaps most notably, the SUV has now become the de facto vehicle of choice in nations across the world, so the Range Rover now needs to offer even more all-around family-friendly capability on top of everything else it does well.
So, here in 2022, how does the vehicle once so memorably described on It's Always Sunny in Philadelphia as "a transporter of gods" hold up in the face of a changing world and fresh competition? We headed to California to find out.
What makes the 2022 Range Rover special?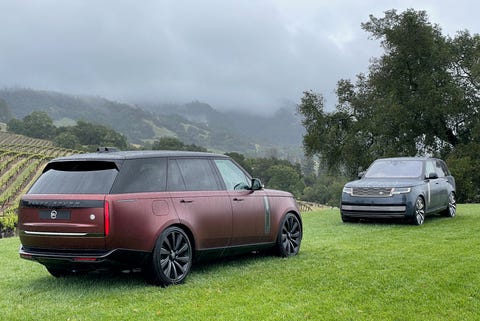 It's all-new — although it's easier to tell that from the back than it is from the front, where the design is much more evolutionary than revolutionary. The face of the new model bears an intentional resemblance to the prior one; the rear, on the flip side, is sleeker and more streamlined, with thin vertical tail lamps that, admittedly, give it a slight resemblance to the stern of a Kia Telluride.
Beneath that evolutionary design, however, lies a new platform known as "MLA Flex" in Jaguar Land Rover parlance. Designed to be used in everything from gas-engined mild hybrids to electric vehicles, it's being used for the first time here; it's both stiffer and more quiet than the previous Range Rover, which wasn't exactly a rattling cardboard box.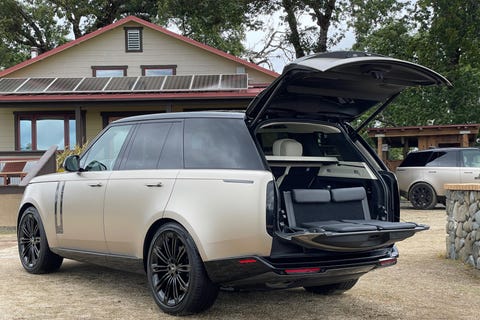 Under the hood lies a choice of two different gas-powered powertrains, at least to start in the United States. Base models come packing the mild-hybrid 3.0-liter inline-six that's quickly become a familiar face across the Land Rover lineup, here making 395 horsepower and 406 lb-ft of torque.
The V8 variant is something of a throwback in terms of legacy, if not technology; like the eight-pot found in the Range Rover a couple generations ago, it's made by BMW. Unlike that V8, however, this new one is twin-turbocharged to crank out a claimed 523 horsepower and 533 lb-ft of torque...and Bimmer's turbo motors often turn out to be underrated from the factory.
If those choices don't float your boat, don't sweat: there are not one but two other powertrains coming soon that make greater use of electrons. First up in the next year comes an incipient plug-in hybrid variant that combines an inline-six with a 38.2-kWh battery that gives it a claimed 62 miles of all-electric range on the admittedly liberal WLTP testing circuit; a bit further down the line comes a fully electric Range Rover EV, based on the same chassis as the gas-powered versions.
What's the 2022 Range Rover like to drive?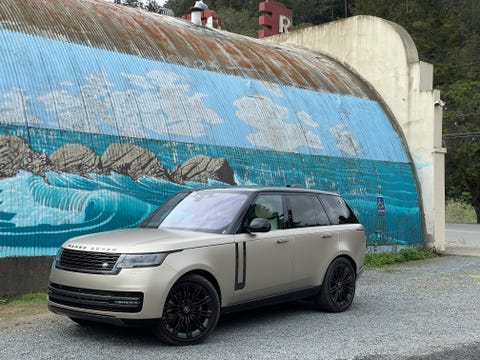 Everything you'd hope for from an esteemed British carmaker. Even on those monstrous wheels, it rides smoothly and silently, sopping up potholes like warm bread grabbing olive oil. Land Rover's test drive route included a surprising amount of twists and turns, including a good two hours of driving along curvy California Route 1 north of San Francisco; the Range Rover handled them ably, but there's no denying it's soft; it bobs and sways in turns, no matter how much stiffness you ask the active suspension to add in. It's far more comfortable cruising serenely and silently through town or along the open road. Think old-school luxury sedan, just with a much better view.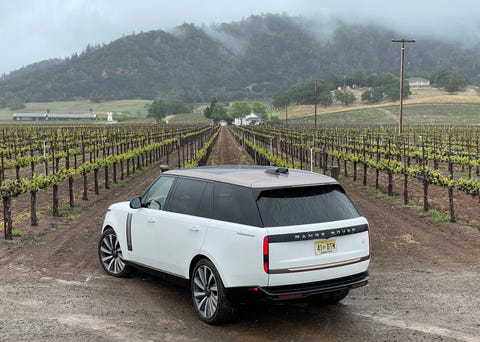 The inline-six version is more than adequate for the average commuter; it's smooth and refined, and capable enough of getting out of its own way when you hammer the throttle, but it's more content cruising along at a steady state, making barely any noise in the process.
Still, if you have the scratch — you'll need to spend at least $18,300 over a base model to grab it — I highly recommend opting for the V8. The extra power turns the Range Rover into something with near-muscle car thrust; leaping through gaps in traffic goes from a cautious exercise to a delight, the nose rearing up as the gearbox drops four gears and the exhaust spits out a civilized powerboat roar. It adds an unexpected bit of fun to an otherwise spit-polished on-road experience.
Okay, then — what's the new Range Rover like off-road?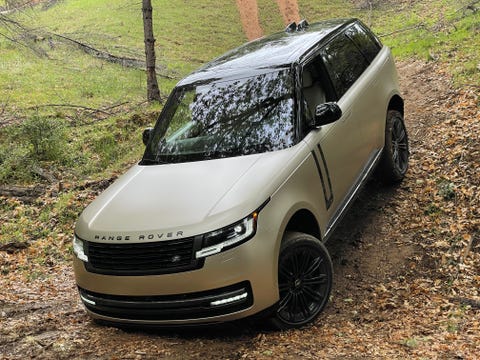 Well, funny story. While Land Rover had prepared a comprehensive series of off-road courses to test out the new Range Rover's capabilities, we only had the chance to do one of the activities — because it was too wet the rest of the time.
Once the steady spring rain started saturating the Napa Valley earth, the dirt paths quickly turned to slick, rusty mud slippery enough to make the steep climbs and descents of the off-road courses too slippery to manage on the thin, road-biased tires outfitted to our test vehicles.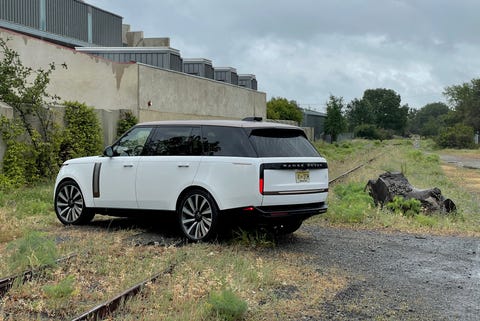 Still, in the limited time we were able to take this new SUV off the beaten path, it demonstrates the aplomb and capability you'd expect. With the air suspension jacked up to maximum height, the ride turns a bit flinty, as it seems to be pushed to the limits of compliance; still, that's an edge case, one only likely to occur in shorts bursts at low speeds. Otherwise, the combination of full-time four-wheel-drive and Land Rover's suite of mechanical and electronic off-road gadgetry delivers its usual remarkable level of capability, enabling this SUV to scramble over obstacles and through terrain where most vehicles this price would fear to tread.
Important as it is for the Range Rover to maintain its reputation as a go-anywhere vehicle, those who plan on doing actual off-roading on a regular basis in this day and age are more likely to buy a Defender. The Range Rover has nothing to be ashamed of in terms of its capabilities...although anyone planning on maximizing them definitely should choose their tires wisely.
What's the new Range Rover like inside?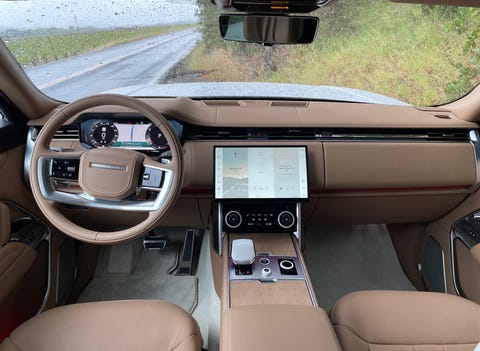 A massive improvement wouldn't be an exaggeration. The old Range Rover was nice, sure, and Land Rover did a good job keeping it fresh over its decade-long life — but the all-new 2022 model is a whole different kettle of fish.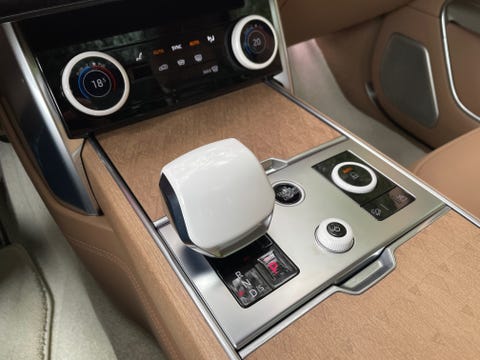 As you'd expect in a new luxury car in this day and age, screens are central to the experience. The new Range Rover's infotainment system screen extends out further than it seems, mushrooming out from the dashboard to provide a mighty tablet for you to fiddle with; it's still a bit laggy and obtuse compared to some competitors' systems, but at the very least Land Rover still offers physical controls for the climate, drive modes and volume. Plus, once you're rolling, you'll be too comfortable in the seats to care much; they're wonderful places to spend some time watching the world go by (or at least from which to peer over the interior's details while you're stuck in traffic).
For maximum luxury, you'll want the Range Rover SV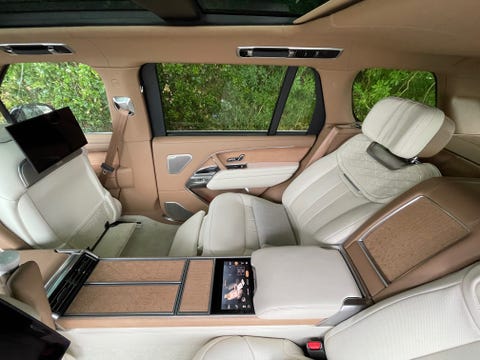 Nice as every Rangie is inside, though, anyone seeking sybaritic excellence is best off leaping straight to the top of the lineup, where the Range Rover SV lies. Do so, and you score suche super-premium touches as independent 13.1-inch rear screens, ceramic accents on the controls, curated color theme accents like elegant accent touches on the exterior, and something called optional "marquetry veneer," which features hundreds of pieces of laser-cut, super-detailed wood trim. I don't understand it, but I can say it looks gorgeous.
Yes, those are airline-style seats in back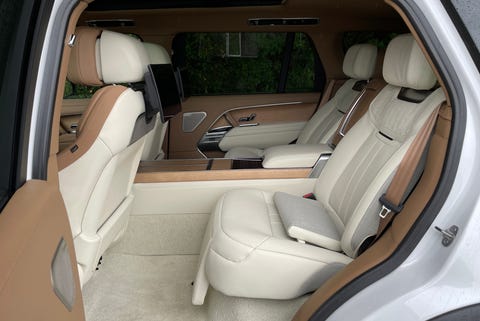 More specifically, though, you'll want the version with the SV Signature Suite, which is only available with the long-wheelbase body style. That nets you a pair of reclining, 24-way seats — nay, thrones — that heat, ventilate and massage you on command, while offering enough legroom for Kareem Abdul-Jabar to relax. A table rises dramatically from the center console at the press of a button, as do cupholders. And, of course, there's a refrigerator designed to hold a champagne bottle between the seats.
Wisely, Land Rover made sure we spent as much time in the SV Signature Suite as possible — driving to and from the airport twice with a chauffeur behind the wheel — and I can firmly state that it ranks among the most palatial backseat experiences you can find in a car that comes straight from the factory. If I can sum it up in one sentence, it'd be this. Land Rover flew us from San Francisco to Napa on a charter jet to avoid the horrendous Bay Area traffic; I'd have rather spent five times as long riding there in the back of the SV.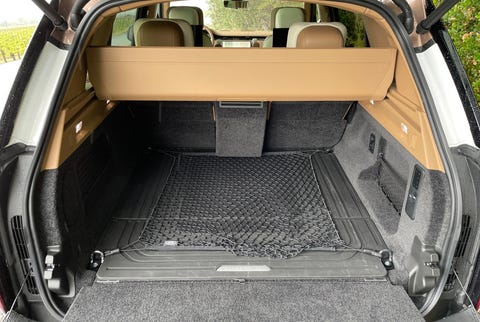 Of course, those thrones come at a cost, and we're not just talking price. (Although...more on that in a second.) The elaborate mechanisms, surrounding and accoutrements of the rear seats means the second row doesn't fold flat, somewhat impugning your expensive sport-utility vehicle's utility. There's still plenty of space in back, as you can see here, but anyone who wants to carry mountain bikes or surfboards in, rather than on, their Range Rover probably will want to go with a lower trim.
There's a seven-seat Range Rover now, too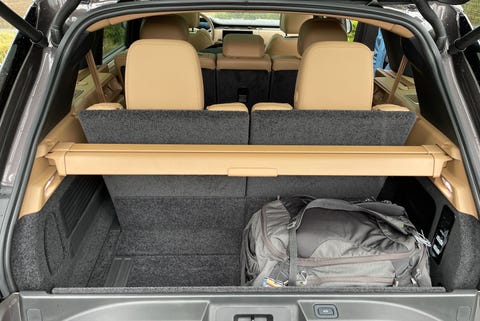 Of course, if you opt for the long-wheelbase Range Rover and don't need the fanciest interior, you can also, for the first time, score a third row in the back. It can, indeed, fit a full-sized human if need be, although they'd better be prepared to become rather intimate with their kneecaps. It's better-suited for occasional use, like a jump seat in cars of yore — something you leave stowed away and forget about most of the time, until you suddenly find yourself needing to transport more people than planned.
How much does the new Range Rover cost?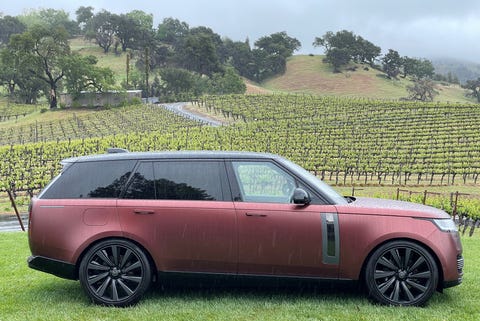 Well, the answer is a bit more complex than you might suspect. If you want to give the simplest explanation, I'd say, it starts at $95,150 with destination. (That said, that goes up about $10K for the 2023 model year; blame, y'know, the world.) But there are a stunning amount of ways to option up a Range Rover, depending on powertrain, length and trim level — SE, HSE, Autobiography, First Edition and SV for 2022.
Depending on your choices, then, that starting price can fade into the rear view real quick. Pick the range-topping SV and check all the boxes, and you'll pass the quarter-million dollar mark on the window sticker.
What does the 2022 Range Rover compete against?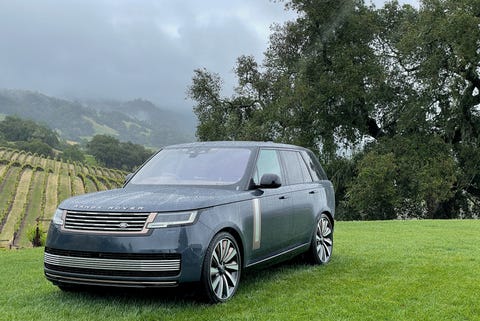 Land Rover, no doubt, would tell you that a Range Rover has no true competitors — but while that once certainly was true, it's far from the case here in 2022. At the lower end of its pricing spectrum, the Range Rover stacks up against vehicles like the Mercedes-Benz GLE- and GLS-Class, the Cadillac Escalade, the Lincoln Aviator and Navigator, the BMW X5 and X7 — although if you're looking for something similarly priced with the same sort of off-road street cred, your best bet is the Lexus LX 600.
Push your way to the top of the pricing structure, however, and you're cross-shopping against seriously dignified metal. The Mercedes-Maybach GLS 600 and new Bentley Bentayga EWB both offer similarly palatial second-row accommodations, while the regular wheelbase Bentayga and Rolls-Royce Cullinan offer more of a driver-centric experience. And while the likes of the Aston Martin DBX and Lamborghini Urus deliver a very different sort of drive, they do both rival the top-shelf Range Rover in matters of curb appeal — which, let's face it, is a big reason many people choose such
But impressive as they may be in so many ways, all those contenders all lack one thing this SUV has: it's a Range Rover, and all that it implies.
The 2022 Land Rover Range Rover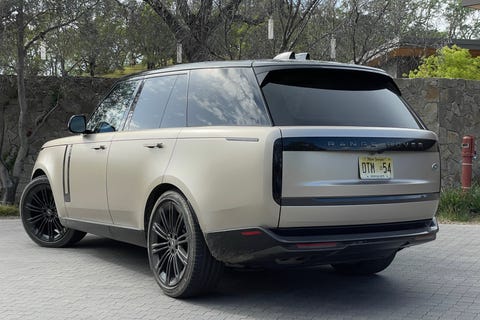 Powertrain: 3.0-liter turbocharged inline-six / 4.4-liter twin-turbocharged V8; eight-speed automatic; four-wheel-drive
Horsepower: 395 / 523
Torque: 406 / 533
EPA Fuel Economy: 18 / 16 mpg city, 26 / 21 mpg highway
Seats: Four to seven
The New Land Rover Defender Is Exactly the SUV It Needs to Be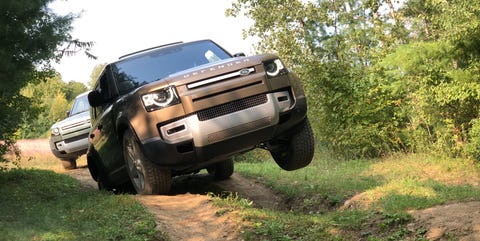 It might not be exactly what you wanted, but the new Defender is what Land Rover needs right now.